Soooooo by 20th birthday is in about 26 days and it's about time I ask my mom to order my birthday present. Can you guess?
Call me nerdy, but back in the summer I, being totally completely obsessed with The Work and the Glory Series (Post link:
Work and the Glory OBSESSED.
) have asked that she buy me volume #6. But ho ho ho, AbeBooks.com is wonderful and has the books for cheap, so I get #6 AND #7. Yes, I feel lucky :)
So I'm sitting here during my short break in Children's Lit searching up the books and reading the synopsis:
Praise to the Man follows the story of the restored Church and the Steed family from the summer of 1841 to the summer of 1844. Some momentous events take place during this period in Church history: Nauvoo becomes an established city; the Relief Society is founded; the endowment

is administered for the first time; Joseph Smith becomes a candidate for president of the United States and delivers his monumental King Follett Discourse. Meanwhile, dark forces outside and inside the Church are at work to destroy Joseph and the Restoration. Before the story ends, the powers of evil will have swept across the Church, taking out some in very high places, making some others waver, and taking Joseph and his brother Hyrum to their date with destiny in Carthage. Woven throughout these events are the lives of the Steeds. As Joshua sees the Mormons gaining more influence with his wife and children, his patience finally reaches the breaking point. Will must resolve his feelings for Jenny Pottsworth and his desire to know if the Church is true. New hope is born in Jessica's life when she is offered a new teaching position. Mary Ann and other Steed women participate in the beginnings of the Relief Society. But before long, whisperings reach the ears of some of the Steeds about curious teachings and practices going on in Nauvoo - specifically it is rumored that God may have restored the ancient practice of plural marriage. How will they respond when they find out that at least some of the rumors are true? The issue becomes a trial of faith that shakes the Steed family to its very roots. At the center of this volume are the final days of the life and mission of the Prophet Joseph Smith. Though heart-wrenching in its depiction of the Prophet's last hours on earth, it inspires admiration and affection for the man who communed with Jehovah and will fill readers with anticipation for that glorious time when, in the words of the hymn, millions shall know 'Brother Joseph' again.
IS IT WEIRD THAT THE LAST PART GIVES ME INTENSE CHILLS?!?!?!?!?!
I don't know why, but it totally does. Maybe it's because I'm sad Joseph Smith is about to die?
IS IT WEIRD THAT I SUDDENLY FEEL SAD THAT JOSEPH SMITH IS ABOUT TO DISAPPEAR FROM THE SERIES?!
I am probably not that weird for feeling this way. I have seriously gained such an attachment to the Prophet Joseph Smith. I've always had a respect for this man and the glorious work he was able to do for the Lord but I didn't gain my deeper respect and intense love for this man until after I've read through the Work and the Glory series. They really portray him well. He is just so wonderful....and I'm SO SAD he is about to get martyred (look, I'm getting all worked up and I haven't even read this book yet!). It reminds me of my trip to Nauvoo with the stake youth in 2006. Oh my goodness, the feeling I got when I was in Carthage Jail was intense. There's a reason why "A Poor Wayfaring Man of Grief" is one of my favourite hymns.
I love Joseph Smith so much and I know that he is a true prophet of God. Think about it, if Joseph Smith didn't take the initiative to pray and ask God which church was true then we wouldn't have the restored Gospel today. If Joseph Smith gave up during all his persecutions, then what kind of church would we have now? I LOVE THIS MAN. He is truly a wonderful example of unwavering faith and undying love for the Lord. He is someone I definitely want to meet and shake hands with (and obviously hug) in the millennium.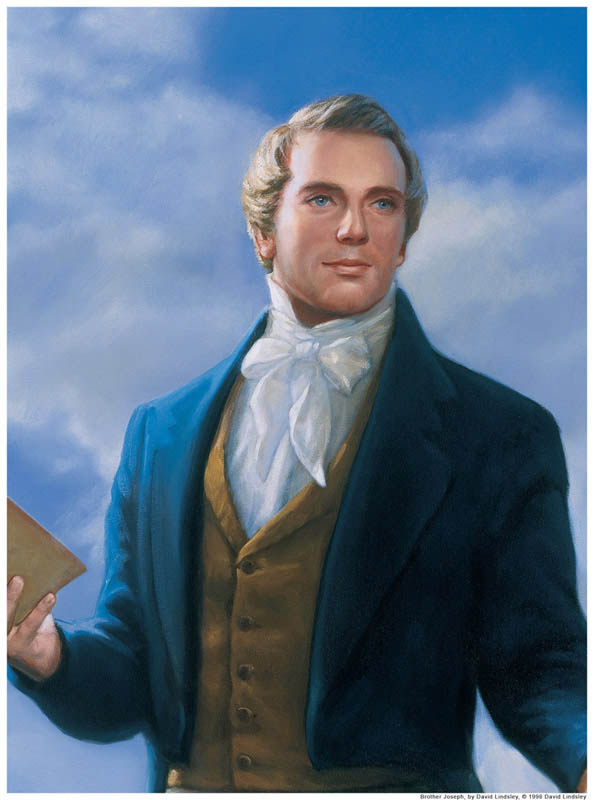 live well . laugh hard . love big .